Welcome to Our Parts Department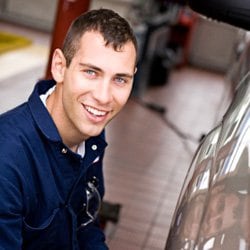 Find the Ford Parts You Need at Mankato Ford, Serving North Mankato, New Ulm, Nicollet, Eagle Lake MN and Saint Peter MN
When it comes to buying parts, Mankato drivers can look to the Mankato Ford team with confidence! Whether tired of slogging through pages and pages of inventory on the internet just to find a single part or you just don't have the time, the Mankato Ford parts department is ready to help! Our staff of professionals is well versed in the world of parts. From Ford parts to nearly any other parts drivers might be after, Mankato Ford can help! The Mankato Ford team will work with drivers to find parts for your new or used F-150, Escape, Explorer, Expedition or Edge - from SUVs and vans to cars and trucks, the Mankato Ford service team can likely help!
Learn more about the perks of picking genuine Ford parts?
Now, there's plenty of auto parts stores around North Mankato, New Ulm, Nicollet, Eagle Lake MN and Saint Peter MN, so you might rightly wonder, "Why come to Mankato Ford when I could just go to my local shop for parts?" Well, unlike the generic parts you'll find for sale at other auto parts stores, our genuine Ford parts are backed by the Original Equipment Manufacturer, meaning they're the same components used to produce your car, truck or SUV in the first place. Our genuine Ford parts are guaranteed to fit your vehicle, so there's no need to fret over functionality ever again.
Parts Order Options - Online, Phone, or in Person
In this modern day and age, North Mankato, New Ulm, Nicollet, Eagle Lake MN and Saint Peter MN drivers can look forward to a modern parts experience at Mankato Ford. We offer drivers a range of ways to order parts! Whether you're a Mankato driver that prefers classic in person interactions or you're looking to call or utilize our website, Mankato Ford can accommodate all three options! Ensure that your vehicle stays in fit driving shape, choose Mankato Ford parts department for all your new parts needs! Mankato drivers can fill out an online parts order to get ahead of the curve! Stop by, call, or fill out an online parts order today!